Welcome to 123ArticleOnline.com!
ALL
>>
Technology,-Gadget-and-Science
>> View Article
Ucaas Vs. Cpaas Vs. Ccaas – Everything You Need To Know

UCaaS, CPaas, and CCaas are crucial technologies that have emerged as critical service models for implementing cloud-based communications. are you currently switching from an on-premises contact center to a CPaaS or CCaaS platform, or do you want to know the differences between UCaaS vs. CCaas vs. CPaas? Here is a detailed guide about the introduction, features, significant similarities, and differences between UCaaS vs. CCaaS vs. CPaaS platforms to obtain a clear insight.

Over many years, trends have seen an enormous change in commercial operations. They have given rise to an industry known as Unified Communications as a Service (UCaaS), Contact Center as a Service (CCaaS), and Communication Platform as a Service (CPaaS). UCaaS, CPaas, and CCaas are crucial technologies that have emerged as critical service models for implementing cloud-based communications. Now the question arises, are you currently switching from an on-premises contact center to a CPaaS or CCaaS platform, or do you want to know the differences between UCaaS vs. CCaas ...
... vs. CPaas? If yes, let's have a detailed guide about the introduction, features, significant similarities, and differences between UCaaS vs. CCaaS vs. CPaaS platforms to obtain a clear insight.
Let's start with UCaaS — Unified communications-as-a-service.
What is UCaaS?
UCaaS represents Unified Communications as a Service, an enterprise communication strategy that provides communication, collaboration, and data-sharing capabilities as a subscription-based good via the cloud. Companies adopt the UCaaS platform to offer staff collaboration tools to work anywhere. UCaaS solutions function across a user's computer, desk phone, and smartphone.
Benefits of Unified Communications as a Service (UCaaS)
UCaaS solution provides numerous benefits to businesses adopting the technology. Let's look at some of the most significant benefits of the UCaaS platform for business communications.
Lower Costs
Switching to the UCaaS platform from older communications equipment provides substantial cost savings. The provider hosts the apparatus at their facility and offers you the usage of the service through the cloud. It means there isn't to get large hardware needed to host the service at your facility.
With the UCaaS solutions, upgrades and maintenance are handled by the service provider as well, providing the benefit of dependability and ongoing updates without taking the time to do so yourself.


There are numerous ways in which a company can implement the UCaaS platform. Implementation of a UCaaS solution in any business depends on its requirements and available resources.
More Adaptability
Your company has much more communication flexibility with the UCaaS platform. You can switch between different channels and devices while using them from separate locations. As a result, your company is more adaptable and can quickly change.
With an UCaaS platform, you may utilize various services and select from several communication channels, including voice, video, email, social media, and text. This variety enables employees to communicate in their preferred manners and interact with consumers via their select channels.
What is CCaaS?
CCaaS represents Contact Center as a Service, a computer software deployment model that helps companies buy only the required technology. The main aim of this CCaaS platform design is to simplify businesses' duty to communicate using their customers.
It is a communication framework that helps businesses work with a remote cloud-based infrastructure for hassle-free functioning of these contact center operations. Whether a small company or even a start-up, the CCaaS solution provides the best value for money and numerous incredible features.
Benefits of Contact Center as a Service (CCaaS)
No Maintenance
Your team doesn't have to maintain any code because CCaaS platform providers handle the software; there are no errors, tech debt, bugs, or need for bug fixes or updates. By avoiding these issues, your developers save time, and your business hires fewer programmers.
Subscribe to a new feature from the CCaaS solution provider to add it. Many include a-la-carte feature options as add-ons, which can be set up and used immediately.
Various Feature Options
Omnichannel and multichannel contact center solutions offer different call routing and management options and analytics that open up a wide range of use cases. Most CPaaS solution providers only provide voice telephony, text messaging, and video conferencing as their range of services.
On the other hand, CCaaS solution providers feature customizable interactive voice response (IVR), call queuing, integrated analytics, live AI-enhanced agent support, and more.
What is CPaaS?
CPaaS represents a Communications Platform as a Service and is an exceptionally designed communication tool that helps organizations improves communication abilities. This CPaaS platform offers integrated development environments to make the integration of communications capabilities easy and quick.
With the advent of the CPaaS platform, various opportunities and possibilities expose for businesses that may make them within their operations and finance management. Most organizations utilize the CPaaS technology to enhance customer experiences, ensure marketing campaign effectiveness, and expand sales.
Benefits of Communication Platform as a Service (CPaaS)
CPaaS platforms are cost-effective, integrative, flexible, and scalable, allowing you to retain app ownership.
Cost-Effective
You pay for what you use using the CPaaS platform, saving money on the setup and upkeep of hardware and software. You pay for an entire pricing tier with a package of capabilities when you subscribe to ready-made software as a service (SaaS) platforms like CCaaS or UCaaS.
While this lowers the cost of those specific features, you are still required to pay for some that you might not utilize.
Integratable
CPaaS Platforms APIs integrate smoothly into your company's business application. Once your developer programs the brand-new code, your clients can enjoy the brand-new communication capabilities alongside the various tools they already know.
Similarities between UCaaS, CCaaS, and CPaaS
UCaaS, CCaaS, and CPaaS solutions enable companies to deal with communication needs and never have to cope with the complexities. Below are a few similarities between UCaaS, CCaaS platforms, and CPaaS platforms.
Cloud-based services
All three offer companies an option to traditional on-premise phone systems by operating from the centralized, cloud-based platform. Customers can deploy their communications anywhere with a web connection, not tied to a hardware infrastructure or specific location.
Productivity tools
All three allow users to get into numerous productivity tools in just a unified graphical user interface — like contact databases, voicemail messages, and notes — rendering it possible for workers who collaborate remotely to keep connected and come together more efficiently.
Advanced features and services
All three include advanced capabilities such as customizable IVR (interactive voice response) technology, call recording, and team collaboration features that produce much more than basic VoIP business phones.
Cost efficiencies
All three provide organizations with significant cost savings compared to legacy on-premise solutions.
Flexibility
Deploying either service offers businesses flexibility regarding where employees access their communications system.
Reduce maintenance costs
With either option; businesses avoid hefty charges related to running data centers.
Scalability
Either can grow along with your company as your requirements increase.
UCaaS vs. CCaaS vs. CPaaS Platforms: How are they Different?
All these platforms are ideal for a company in lots of aspects. Regardless of numerous similar features, there are several significant differences too. Let's look at the difference between UCaaS vs. CPaas vs. CCaas in a revealed manner in various terms and aspects.
Purpose
The purpose of the UCaaS platform is internal collaboration. However, the purpose of the CCaaS platform is Customer service/support. At the same time, the CPaaS platform is a combination of internal collaboration & customer service/support.
Usability
For businesses, the UCaaS platform is a significant choice for looking for a new suite of contact center features that prioritize internal communication. However, the CCaaS platform is excellent for establishing contact centers when software lacks flexibility. While CPaaS helps companies build their contact center software by offering numerous communication solutions, including video calls, chatbots, and text.
Users
UCaaS platform is for all employees. However, the CCaaS platform is for sales and service reps. While CCaaS is for developers.
Flexibility
UCaaS, CCaaS, and CPaaS platforms ensure cost-effectiveness to businesses but differ in how they allow flexibility. UCaaS platform offers flexibility for organizations that need to quickly add and remove users, such as seasonal employees, without significant infrastructure changes.
However, CCaaS is a firm technology that provides easy and quick customer handling. But, CPaaS offers flexibility to businesses to set up communication tools per the company's requirements.
Customization
UCaaS platforms offer high levels of customizability and platforms that can support popular packaged applications. CCaaS platform is somewhat rigid and should make many changes in the software's coding to customize specific features and tools. However, CPaaS is an excellent choice for customization because it lets businesses customize their communication channels per their needs and customer demands.
Business Domain
In this aspect, the UCaaS platform targets all company employees. CCaaS is advantageous and efficient for businesses that can be customer-centric or contact centers. However, CPaaS mainly targets developing a communication bridge between employees, customers, and the company.
Compatibility
UCaaS solution wants more than just an upgraded voice communications system. However, CCaaS use whole software, and its features share for almost any specific application. While CPaaS is the building block, which can be incorporated and layered with other cloud-based services and channels.
Objectives
UCaaS give employees more ways to collaborate and give managers access to their employees' workflows. However, the CCaaS platform improves business continuity by handling clients through channels they select. Contrarily, the CPaaS platform enables businesses to develop their communication infrastructure to guarantee seamless connectivity inside and away from the organization.
Integration
UCaaS integrations to make your entire organization accessible. Contrarily, the CCaaS platform provides software integration tools with turnkey solutions. However, the CPaaS platform integrates multiple devices from different providers to create customized or unique solutions.
Scalability
The scalability of the UCaaS platform is implemented for a global or hybrid team regardless of location. However, CCaaS depends on users' needs and can easily add additional nodes or capacity at any time. While CPaaS allows customizations, it only offers flexibility in adding more physical nodes for load-balancing purposes.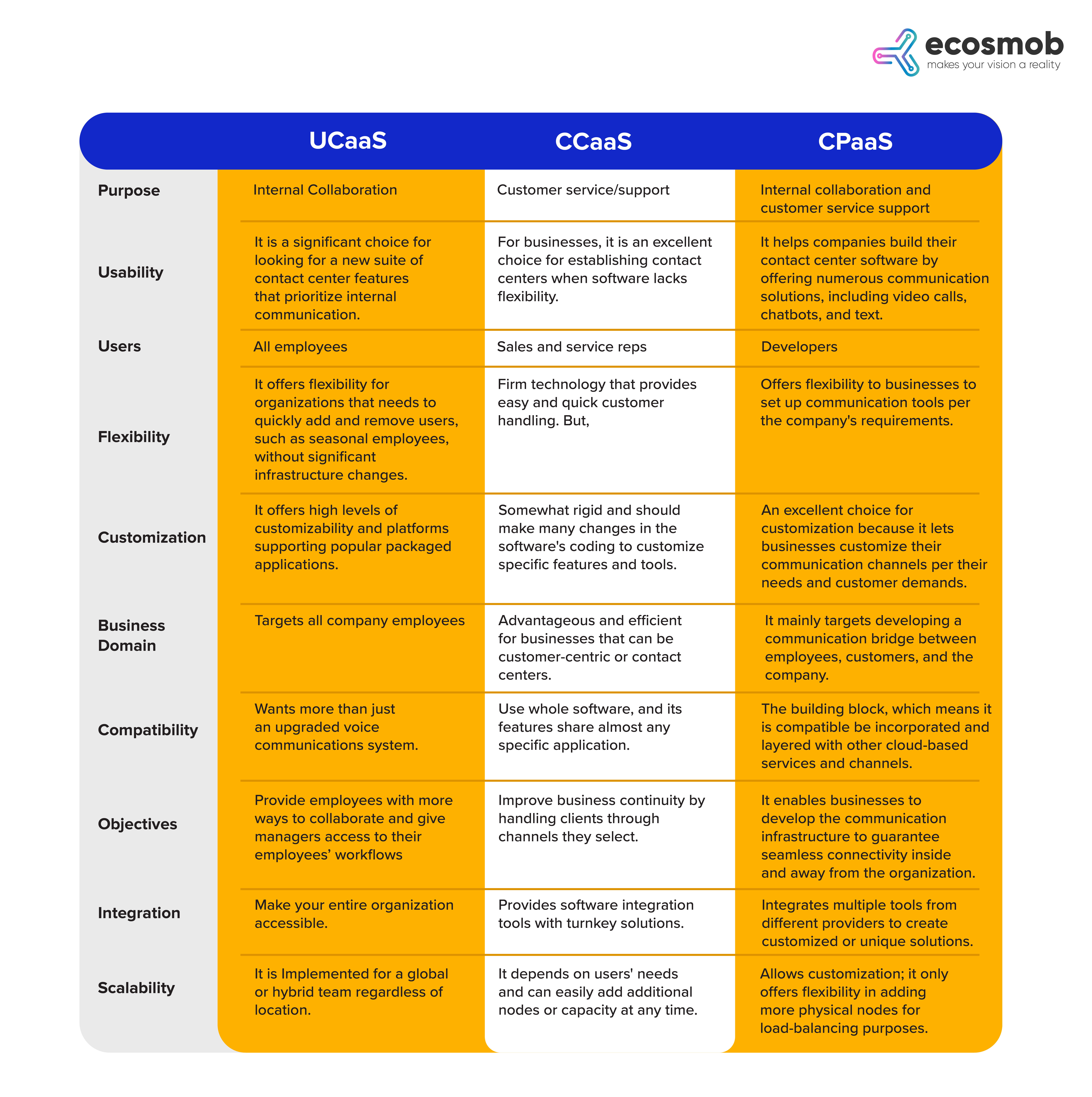 If most software needs center around collaborating with team members and communicating internally, then the UCaaS solution is the most effective choice for your business.
Key factors to think about when selecting your UCaaS solution include the following:
Pricing
Collaboration features
Third-party integrations
Video conferencing capacity
How it ties in with (or replace) your existing collaboration tool stack
CCaaS: When to Use It?
When your company lacks an app or in-house developers, use CCaaS to add a wide range of functionality and communication channels.
Critical factors to consider when choosing your CCaaS solution include the following:
Pricing
Performance Analytics
Third-party integrations
Phone system calling costs/rates
How long will it take to train new agents until they fully adopt the software
CPaaS: When to Use It?
If you currently have a communication app or want to add a few isolated channels, use CPaaS.
Influential factors to consider when choosing your CPaaS solution include the following:
Pricing
Analytics
Skills-based routing
Messaging, chat, and social media
Wrapping Up
The emergence of cloud communication tools and services has benefited businesses in various ways. One can readily understand CCaas vs. CPaaS by comparing the characteristics, similarities, differences, and applications of CCaaS and CPaaS.
CCaaS facilitates and streamlines client handling, while the CPaaS platform primarily enhances communication. Therefore, businesses can select them based on their requirements.
Understanding the differences between these cloud services can help your organization precisely pick the one platform it needs. If you wish to have much more help in deciding, you can ask the Ecosmob support team. We're here to assist you in picking the best system for the business.
Original source: https://www.ecosmob.com/ucaas-vs-cpaas-vs-ccaas-everything-you-need-to-know/
Ecosmob, provides the service to hire expert VoIP developers to design and develop an array of business communication solutions. With the right blend of expertise and decade-long experience, developers can deliver the ultimate business telephony solutions to enhance productivity and efficiency. Ecosmob assure flexible hiring models to help businesses cater to their requirements according to their needs and budget.
Add Comment
Technology, Gadget and Science Articles
1.
Overview Of E-signature Laws Across Borders | Drysign India
Author: DrySign Author
2.
Hp Dragonfly Pro Review: You Better Watch Your Back, Apple
Author: firenews feed
3.
What Is In The Latest Angular 15 : Check Out All The New Features?
Author: zenesys
4.
Mobile App Development - Step-by-step Guide For 2023
Author: Scadea
5.
Top 10 Metaverse Nft Marketplace Development Companies In India
Author: DC Kumawat
6.
A Comprehensive Guide To Plastic Injection Molding Solutions
Author: Mouldinginjection
7.
Pharmacy App Development: All You Need To Know!
Author: shelly megan
8.
Graphite Heaters & Heating Element
Author: mannat
9.
Importance Of Data Management In Salesforce: Best Practices
Author: Chad Hammond
10.
New Ransomware Encrypts Your Android And Then Changes Pin Lock
Author: Wisemonkeys
11.
Gis Remote Sensing
Author: Wisemonkeys
12.
Faits Concernant Le Moulage Par Injection De Plastique Que Vous Devriez Connaître
Author: Mouldinginjection
13.
Best App Development Frameworks For 2023
Author: webredas
14.
Optimizing Maintenance Operations With Cmms Software
Author: KBV Research
15.
Iot Sensors Market: A Look At The Industry's Current And Future State 2030
Author: Tani shah