Welcome to 123ArticleOnline.com!
ALL
>>
Real-Estate-and-Foreclosure
>> View Article
Luxurious G+1 4 Bhk Spacious Villas In Kismatpur [unit Size: 3403 - 4069 Sq.ft]

At present Hyderabad is considered to be one of booming city with respect to Real Estate growth, there are many factors which has boosted the growth since 2018, one of prominent factors is the stable government and their initiatives towards making city infrastructures better to provide smooth day to day living. Some of the civic infrastructures like completion of Nehru Outer Ring Road, starting of Metro Rail route and construction of Flyovers to lessen the traffic have changed the face of real estate scenario. Due to the infrastructural developments and invest by big MNCs in the city would boost the growth of Hyderabad in all terms developments.
With these all developments Residential Real Estate is also flourishing, there are more than 1000 residential projects available in Hyderabad. Builders and Buyers are showing interest to invest alongside Nehru outer ring road in the south west because of its close proximity to IT Hubs like Hitech City, Gachibowli, Nanakramguda, Kondapur, Madhapur. Due to the announcement of the extension of Ameerpet- Raidurg metro Route to shamshabad, builder is coming up with many residential plots around these routes. Area like Narsingi, Gandipet, Puppalaguda, Bandlaguda Jagir, Kismatpur are situated little bit outskirt with lot of vegetation and water bodies with good connectivity of roads to the other important location to the city.
Kismatpur, which is located near water bodies like Himayat Sagar Lake alongside ORR, is gaining lot of commercial and residential development. There are 5 Villas project Available in Kismatpur, in which 4 are ready to move in project and 1 is ongoing project.

Ramky Tranquillas is one such Ready to Move In projects Near to Appa Junction in Kismatpur, it is spread in 17.9 Acres of land with 25% open space area for lush green landscaping and other recreational developments. Projects Caters G+1 4 BHK well interior designed Villa. It has different unit size East and West facing Villas ranging from 3403 - 4069 sq.ft at the cost of 8,150 - 8,300/ sq.ft.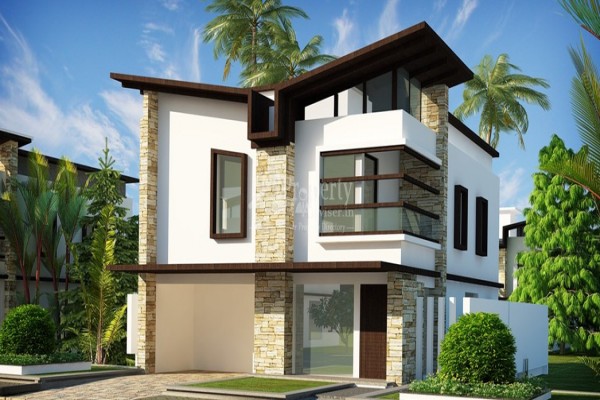 Projects id equipped with all the modern day amenities which would ensure ones refreshments and comfortability within the Gated community that is not need to step out of the community for having refreshments & amusements. Some of Luxury Amenities provided here are: Swimming Pool, Table Tennis, Jogging Track, Basketball court, Indoor Games and more...
Proximity of the projects to some important Landmarks:
• Shadan College in 1 km
• SBI ATM in 1.5 Km
• Ring Road in 9 Km
• Cyber Tower in 14 Km
• DLF Building in 15 Km
List of available Villas for sale in Kismatpur:
• Shanta Sriram Brookwoods
• C L Villas
• Ville Green
• Royal Woods
If you looking for a Residential Investment in Hyderabad – Once check Property Adviser portal – Online Hyderabad Real Estate Directory with more than 1000+ Residential projects with dedicated project page with furnished insights which would guide you in your home search decision making, also with its smart filter options on each area wise project page would let you narrow down the searches based on your requirements property type, community type, budgets range, locality to save your time.
Add Comment
Real Estate and Foreclosure Articles
1.
My Space Logic
Author: My space logic
2.
Best Tips To Hire The Best Architect
Author: Access Architects
3.
Sell Your House Quick By Following These Simple And Easy Steps
Author: Rick Lopez
4.
Know How You Can Sell Your Home Online
Author: Rick Lopez
5.
What Are The Advantages Of Visual Rendering?
Author: Aimircg
6.
Stamp Duty And Registration Fee In Bangalore
Author: Shakti
7.
What Are The Land Rates In Bhongir?
Author: sandy
8.
Now Use Mls To Look For A House
Author: Rick Lopez
9.
What To Consider Before You Book Your Next Office?
Author: OBK Business Centre
10.
Shriram 7 Rks (shriram Saat Rang Ke Sapne) Brings Affordable Homes In Kolkata
Author: Aakriti Singh
11.
Lower Parel Gets A Taste Of Luxurious Flats In Mumbai
Author: avighnagroup
12.
Why Evaluating Real Estate Agents Before Picking One Is Extremely Crucial
Author: Rick Lopez
13.
Medium Density And Built Form – Block Of Land For Sale Melbourne
Author: Kaikura Land Sales
14.
3 Must-read Books For New Bees In Real Estate For 2020
Author: derick james
15.
Who Are The Best Real Estate Developers To Buy Open Plots In Hyderabad?
Author: sandy