Welcome to 123ArticleOnline.com!
ALL
>>
Real-Estate-and-Foreclosure
>> View Article
Rera Approved 3&4 Bhk [3087-4382 Sq.ft] Luxury Villas In Kismatpur, Hyderabad

By Author:
property Adviser
Total Articles:
18




Own Independent house is ultimate dream of every one's life and owning such dream requires huge amount of investments and decision making. So, planning for home hunt should always include self verification of the locality rather than depending on any brokers, For settling down it always better to choose the area little bit away from the crowd of main city which would avoid noise, rush and pollution and if it's in fully vegetated and beside water bodies it will also avoid the scarcity of water.
If you are dreaming of buying Villas with Luxury Amenities in Gated Community to lead a lavish life in the midst of nature, once check for "Shanta Sriram Brookwoods" Aesthetically built G+2 Spacious 3&4 BHK Villa project in Kismatpur, which lies beside Nehru Outer Ring Road and Water bodies like Himayat sagar lake.
Villas at "Shanta Sriram Brookwoods" is spacious and well designed to fit one's requirements for comfortable living. Villas size ranges from 3087-4382 at a cost of 6,500/ sq.ft. AS of now (9th July), out of 49 units 26 units is available with different size and Facings.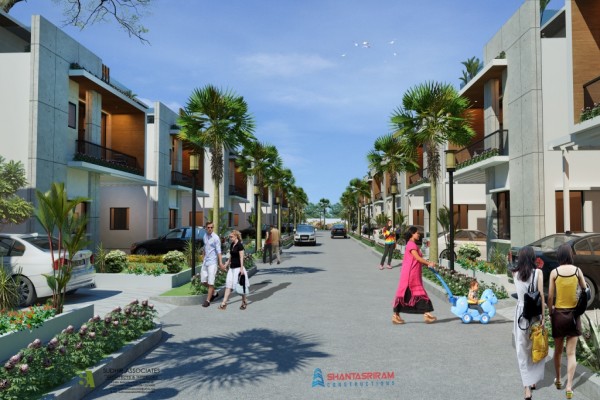 Project is built on 5.5 Acre of land with 50% open space area with refreshing & Relaxing Infrastructures like Swimming Pool, Yoga & Meditation Hal, Club house, Indoor Games and more.
Projects are at close proximity to many civic and social infrastructures like:
• Shadan Hospital in 0.6 km
• Heritage Super Market in 1.2 km
• Appa Junction ORR in 2.5 km
• Times School in 2.8 km
• Financial District in 11 km
To avail information about all type of Hyderabad Residential Projects, check for the Property Adviser Portal with more than 950 projects information with dedicated projects page with analytical data related to projects. If you are looking Apartments for sale or Villas for sale with respect to locations, Budgets, types, you can easily narrow down your searches based on requirements by using smart search filters on Property adviser portal to make your house hunt quickly with reliable data
To get detailed information of the projects like cost & facing of available units, cost of amenities, occupancy time, updated construction progress image and builder contacts visit @ https://propertyadviser.in/shanta-sriram-brookwoods-kismatpur-hyderabad-2988
Real Estate and Foreclosure Articles
1.
Luxury Living Is A Popular Choice For New Home Buyers In New Jersey
Author: Fernmoor Homes
2.
Affordable Plotting Projects With Maximum Amenities At 500/sq.ft In Yadagirigutta, Hyderabad
Author: property Adviser
3.
Why Hiring Canadian Contractors Is A Good Idea
Author: Rick Lopez
4.
Top Nj Industrial Property For Sale
Author: Blauberg
5.
Bptp Plots
Author: Ravi Narwat
6.
Radhu Builders Oakwood Is Enjoying Great Popularity In Neemrana
Author: Jiya Verma
7.
Mrg World The Balcony
Author: Manish Thakur
8.
Things To Keep In Mind Before Buying A 1 Bhk Flat In Dahisar
Author: Priyanka Patel
9.
Why Rent A Serviced Apartment In Mumbai ?
Author: Akshay Purohit
10.
2/3/4bhk Apartments At Ska Metro Ville Greater Noidaa
Author: Jiya Verma
11.
Buying Home With Down Payment Assistance
Author: Pooja Agrawal
12.
Real Estate Under Embargo
Author: Pooja Agrawal
13.
Why It's A Great Time To Look Into Colorado Springs Real Estate
Author: Mountaincity Realty
14.
Numerous Benefits Of Metal Roofs
Author: Fred Lydick
15.
A Guide To Selling Your Property Privately
Author: Jodie Kelly