Welcome to 123ArticleOnline.com!
ALL
>>
Technology,-Gadget-and-Science
>> View Article
Revolutions-per-minute (rpm) Sensor Has Important Role In Aircraft

By Author:
Joseph Polizzotto
Total Articles:
99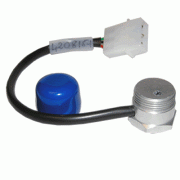 Instruments inside an airplane's cockpit are your medium to communicate with the airplane's engine and keep a check on its overall health and performance during the flight. The RPM sensor thus makes for a vital component in your instrument panel, keeping you aware if you are within the operating limits as you are gunning the engine.


An overview:

The RPM or revolutions-per-minute sensor provides you with engine data and also logs them, creating a trend that comes helpful for preventive maintenance schedules and repair jobs. It helps the engine keep running for years to come.


The RPM sensor shows the readings through the RPM gauge, which can either be a standalone instrument or stays integrated in a single unit along with pressure, temperature, fuel level and flow gauges. For multi-engine aircrafts, there can be different RPM gauges with single, dedicated sensors or just one that keeps check on all the engines through multiple gauges.


Accurate engine monitoring during the course of the flight is important for it helps you to keep the engine revolutions within permissible limits and therefore, minimising the strains. All that culminates to a safe flight and if something doesn't seem to be all right, the log of engine parameters helps you to set the glitches right afterwards.


Old vs. new

Mechanical, cable-driven tachometers are more common in older aircrafts and work with aid from a couple of flyweights attached to the pointer while the later types have the cable attached to a magnet rotating inside an aluminium cup. These are the Bendix/Slick Magnetos, which are more popular than the Dual Magneto type and are far easier to overhaul and therefore; are extremely cost-effective.


The Magneto supplies the power to the spark plugs and acts as a mini power-generator, There are a transformer, a breaker switch and a distributor built into it, the last one guiding high voltages to the spark plugs. The magnet must rotate within the prescribed range, which the aircraft RPM Sensor keeps track of. The sensor is a small cylindrical device plugged into this magnet.


Why Aircraft Engine Sensors are big deals

Sudden RPM drops signify serious spark plug malfunctions. Or, it could indicate an inadequate lubrication of cams, leading to accelerated wear and therefore, late sparks that reduce sustainable RPM, resulting in lots of unburned fuel and energy kick-backs. If fuel is burned inside the exhaust system, it results in an abnormally high EGT.Only an accurate RPM sensor is an answer to this problem.


Replace your Aircraft Sensors in an easy way

In case you need to replace your existing RPM sensor, just remove the vent plug from the magneto-port containing the rotating magnet. There are different sensors available for the Dual and Slick types; just insert the new sensor into the vent port and tighten before routing the wiring bundle back with sufficient slack. Plug in the connector to the corresponding colour wires in the instrument harness and you're done!
Technology, Gadget and Science Articles
1.
How To Fix Norton Error Code 0x80045001?
Author: Aida Martin
2.
Samsung S7 Screen Repair Uk
Author: Samsungrepairer.co.uk
3.
Things To Remember When Hiring Ios Development Company
Author: Eldon Broady
4.
Global It Operations Analytics Market Size
Author: Harleen
5.
Sony Laptop Screen Repair Uk
Author: Sonyrepairer.co.uk
6.
Keypoints And Solutions Before Designing A Mobile Wallet App
Author: Hvantage Technologies
7.
Blackberry Keyone Repair Uk
Author: Blackberryrepairer.co.uk
8.
Stephen Hawking: Fast Facts And Contributions To Science
Author: Dominik Banzon
9.
Reach Your Prospects And Increase Your Profit Through Email Lists By Job Title
Author: Diego
10.
Top Things Developers Need To Know About Serverless Technology
Author: Amit Tiwari
11.
Global Image Recognition Market Size And Share
Author: Shivani Singh
12.
Samsung Galaxy Note 2 Screen Repair Uk
Author: Samsungrepairer.co.uk
13.
5 Ways In Which Android Apps Can Benefit Your Business
Author: Neuronimbus
14.
Temporary Phone Answering Service Can Benefit A Small Or Large Business
Author: Eliza Garran
15.
The Impact Of Mobile Apps On Businesses
Author: Applaunch